Main Line Laser Pain Relief Centers, Dr. Greg & Dr. Andrea Tickle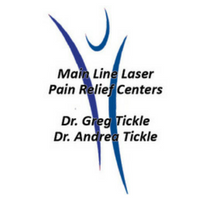 We are proud to be on the medical technological forefront by offering MLS Laser Therapy. We have invested in the very best technology as a key component of our continuing quest to offer you the finest in health care.
Laser therapy painlessly and effectively eases: Sprains & Strains, Sports Injuries, Neck & Back Pain, Shoulder & Wrist Pain, Knee & Foot Pain
Don't Let Pain Slow You Down.
104 Forrest Avenue, Narberth, PA 19072
191 Presidential Blvd Suite 107, Bala Cywnyd, PA 19004
610-667-8412
---
Coupons