Yearsley's Service Locksmith & Garage Doors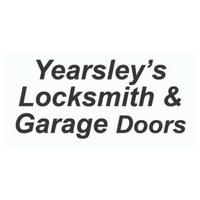 GARAGE DOORS -
We are a LiftMaster authorized dealer and handle all warranty repairs. Repairs on all doors and hardware any brand.
Push the button, and watch your new garage door open. We make your life convenient by installing and repairing garage doors for your home. Best of all, our products and services are very affordable.
LOCKSMITH - residential and commercial
Our experts will first try to rekey any locks you are unable to open prior to any hardware replacement The Yearsley's way is to take the time and give you a quality job and a low cost. We specialize in creating Master Key Systems for all commercial businesses and apartment complexes. When you're locked out of your home or business, you need a fast response from a quality locksmith - call Yearlsey's - a licensed technician will be at your location as soon as possible.
BEWARE of LOCKSMITH SCAMS use only reputable known companies
LAWN EQUIPMENT
Call us today for a free estimate and find out if we can easily repair your power equipment problems.
Our company services top-of-the-line power equipment to keep your lawn green and healthy! Whether you need service on lawn mowers, snow blowers, or trimmers, we're available to suit your needs and budget.
684 Pont Reading Road, Ardmore, PA 19003
610-642-2262
---
Coupons